Here at First Church we LOVE kids!
They are precious to God and they are precious to us. For these reasons, we want to make sure that we provide a loving, engaging, and fun space for your children as they begin learning these three basic truths:
GOD LOVES ME.

GOD MADE ME.

JESUS WANTS TO BE MY FOREVER FRIEND.
As they progress beyond and into our Elementary age program they will build on that foundation as they learn:
I SHOULD TREAT OTHERS THE WAY I WANT TO BE TREATED.

I CAN TRUST GOD NO MATTER WHAT.

I NEED TO MAKE THE WISE CHOICE.
Safety
All of our staff and volunteers are prescreened and are required to
complete the Children/Student Protection Policy training annually.
Age stages
Nursery
(ages 6 weeks - 2 years old)
Our nursery is available at both the 9:30 and 11:00 AM worship experiences. Care is offered for children from 6-weeks to 2-years old. Our nursery staff is ready to cuddle your little one and make sure their first church experience is welcoming and fun. Children will play, sing songs, and have fun in a safe and nurturing environment. The basic truth that "Jesus Loves You" sums up what our nursery is all about!
We offer two separate nursery rooms, one for 6 weeks to 18 months, and one room for 18 - 36 months. Our nursery rooms are each located on the East Wing of the church.
Childcare for Ministry Events
Childcare is available for those attending midweek activities and small groups here at First Church. Please contact Megan Wright, Children's Ministry Assistant about Childcare at First Church by calling the church office at 321.723.6761, or by e-mail to .
All of our staff and volunteers are prescreened and are required to complete the Children/Youth Protection Policy training annually.
Pre-K
(ages 3-5)
Our preschoolers are bursting with so much energy and are surely ready to engage in lots of fun stuff. Through activities like singing, dancing, prayer, Bible story telling, crafts, and playtime, children get to have their first experience of worship. Our Pre-K Ministry is designed to keep them engaged, as we make sure that our activities tickle all of their senses!
We offer a class at 9:30 AM Sundays for Pre-K children, and they are released from the service to join their teacher prior to the sermon. They meet in the East Children's Ministry area.
Elementary
(K - 6th Grade)
Our Elementary Ministry on Sunday mornings is available at the 9:30 AM worship experience. Children are released from the service prior to the sermon for their own time of fun, games, and a lesson that fits their learning style.
Our elementary children have age-grouped small group time, as well as a big lesson all together. We have wonderful, caring adults to guide them along the way.
All elementary ministries on Sunday morning take place on the 2nd floor of the Life Enrichment Center.
Our Staff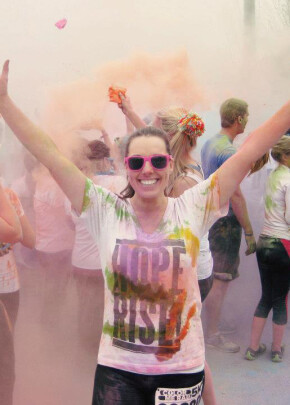 Allison Beavers
Director of Children's Ministry